October 16, 2008 on 2:02 pm | In
make
,
weird
,
hack
,
funny
,
robots
,
inventions
,
entertainment
,
security
,
tech
,
diy
,
electronics
,
evil
,
animals
,
video
|
No Comments
I put up a page detailing my latest project.
Have a cat that won't stay off your counters? I do. I finally got fed up with it enough to do something about it: scare the crap out of him with a motion-detecting blender (while recording the results for my own amusement, of course).
Check it out at www.plasma2002.com/blenderdefender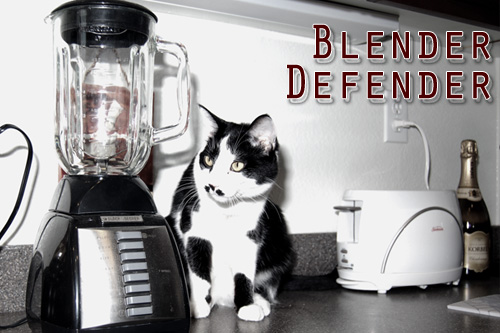 Blender Defender via Me!
September 6, 2007 on 4:59 pm | In
weird
,
funny
,
entertainment
,
photography
,
evil
,
pictures
,
animals
|
No Comments
'nuff said.
April 11, 2007 on 1:53 pm | In
gadgets
,
money
,
news
,
entertainment
,
tech
,
business
,
advertising
,
food
,
evil
|
No Comments
KCF has it all figured out. They have been using technology to advertise like never before. I just learned that last year, KFC had a commercial that told the world how to get a free sandwich at any location just by saying a secret password. They even told you the password right in the advertisement…. except for the fact that it was only put in a couple frames of the entire commercial. The only way to figure out the password was to record the advertisement and play it back in slow motion, most easily done with TiVo, or another DVR.
This was great for KFC. For one thing, it singled out a certain group of individuals for the promotion, and whenever this happens, there is ALWAYS going to be people trying to get into this group that otherwise wouldn't be in there. Even if they really dont want the free sandwich, they want to be able to get into something they otherwise are not able to do. Thats just human nature. So eventually, word got out of the password all across the internet and everyone found it. Now they have a password, and only one thing to do with it. Go get a sandwich, and KFC hopes a drink and some tater's too.
Another thing that made this a great marketing strategy; it is relatively uncommon. Almost unheard of for real promotions. And what more would geeks want than to tell everyone else about something weird and new about technology? Its that reason that KFC gained a lot of free press across the internet. Just the simple fact that people like to tell other people about interesting stuff. Look at what im writing about right now. Im giving KFC some free press.
Anyways… that was a while back. Im posting about yet another way KFC is using their ultra high paid advertising monkeys to churn out even more evil advertising. They are using the technological fact that younger people are able to hear different tones than older individuals.
This technology has been used in a few situations that I can think of off the top of my head such as cell phone ring tones that teachers couldn't hear, but the kids could. Also I just saw a review on a device that was supposed to ward off teenagers from certain places that were more adult oriented (The review was horrible btw. It didnt work).
KFC's new strategy is simple: insert a semi-ultrasonic tone into one of their advertisements. The advertisement looks and sounds completely normal to the elderly ear, but the commercial also says that there is a secret tone located somewhere in the commercial, and the first 1,000 kids to call a certain phone number with the correct location of the advertisement will get a free KFC menu item.
If you catch this commercial on the air and dont have one of your kids around to tell you where the sound is, I have a better idea. Go get your dog, set him by the television, and wait til the advertisement comes on again. When all of a sudden, your canine companion starts going into an epileptic seizure, you can bet that you just found that hidden sound.
Heres the commercial. I could hear that annoying sound perfectly, but just to be fair, this may be due to the video being transcoded into a digital medium. It may actually be a lot harder to hear on the TV.
KFC Mosquito Tone Commercial @ Engadget
Powered by WordPress with Pool theme design by Borja Fernandez.
Entries and comments feeds. Valid XHTML and CSS. ^Top^